System Specials
Custom built computers are twice as reliable as the systems you find at most cookie cutter manufacturers because parts can be specifically selected for their reliability rather then their cost. Many manufacturers will sacrifice reliability in order to offer a system at a lower price then the competition. To save more money these systems are built on an assembly line by people that are not IT professionals, in some cases they are outsourced over seas to be built by someone that does not even own a computer.

Our computers are built out of the highest quality parts available. These parts have been chosen by our experience with them in real world applications. They have proven to far exceed the competition in not only performance but also reliability. These systems not only have the best parts but they are assembled by someone qualified to assemble a PC with the experience that matters.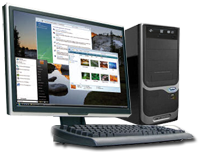 I can custom configure the exact system to meet your needs. If you decide that you want to buy a computer somewhere else thats OK to, give me a call and I will help you set it up.